We had a mixed weekend. Lots of trips to the park, dinner with some pregnant friends to wish them well and I even did some housework. Try not to be too shocked people! Unfortunately Chubs is still sick which is really making life miserable for her, poor little girl.
The other big news of the week - the Knit A Square A Day series - is off to a great start! Thank you to everyone who visited my blog last week. I really hope that you find some patterns which you can try to makes some squares to help the
orphaned and vulnerable children of South Africa and Zimbabwe
.
Now, for the
menu plan.
Last week's wrap up:
Monday: Steak and veggies
All good :)
Tuesday: Freezer Bolognese
We had the BBQ chicken here insteah of Thursday. It was ok, but I didn't love it. We have one more batch in the freezer (I made a double lot) but I don't think I'll make it again.
Wednesday: Steak and veggies
I can't remember what we had - my brain is just moosh!
Thursday: BBQ chicken in the slow cooker
Same, I can't remember, sorry!
Friday: Beef stir fry -
I forgot I was going out this night, so Dear Husband cooked himself steak.
Saturday: Hot chook from the shop
- We actually ate something on our menu plan! It was a total accident though, Dear Husband wanted to make some chicken soup for Chubs. We wanted to get it into her asap so we bought a hot chook, saved the meat for dinner and then used the carcass to make soup.
Sunday: Slow cooker chicken curry
We scavenged and had omelettes with whatever we could find in the fridge.
Confession time: I love stockinette stitch much more than garter stitch. I love the way that the little arrows fit into each other. The biggest drawback of stockinette stitch is, of course, the face that it rolls - both at the top and bottom and at the edges. This makes stockinette stitch (where you knit one row the purl the next) very useful when making a roll brim beanie (where you
want
a rolled bottom, and there are no side edges ot top edge to worry about) but decidedly un-helpful when you are knitting a square which you want to be, well, square - not a rolled up curl.
The reason that I created this free pattern is that it allows some stockinette interspersed with a bit of garter to stop the square from rolling.
Stockinette does take up less yarn than garter stitch. This means that it knits up faster, but also that the square will not be as warm. As a general rule, the more intricate the pattern, the more wool it will use (and therefore the warmer it will be.) This is one of the reasons why fisherman's jumpers usually have lots of intricate stitches, cables and the like. This is something to keep in mind when knitting for charity.
KASAD7
: Green beans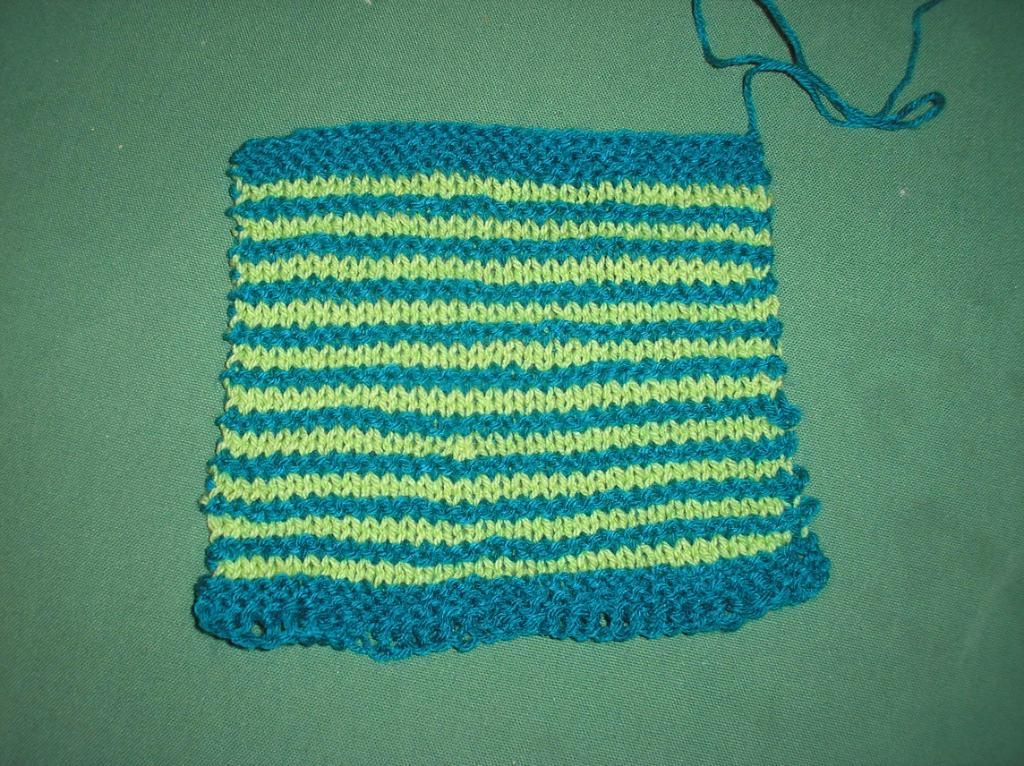 Materials
- 8 ply yarn in two colours, approximately 30g of each
- 6mm knitting needles
- yarn needle to weave in ends, scissors to cut yarn.
Skills and difficulty
Beginner knitter
- cast on
- cast off
- knit stitch
- purl stitch
- changing colour at the end of row
-
carrying unused yarn up the side
Colours
In this example
- C1 is dark green
- C2 is pale green
Procedure
1. Cast on 32 stitches in C1
2. Knit every row (work in garter stitch) for 6 rows (3 ridges).
3. Change to C2. Knit 1 row. Purl 1 row.
4. Return to C1. Knit 2 rows (1 ridge)
5. Return to C2. Knit 1 row. Purl 1 row.
6. Repeat steps 4 and 5 8 more times. (This should leave you with 10 stripes of C2.) End C2.
7. Return to C1. Knit every row for 6 rows (3 ridges).
8. Cast off and leave a 50cm tail.
9. Weave in ends and butterfly the tail.
Return to all the KASAD posts