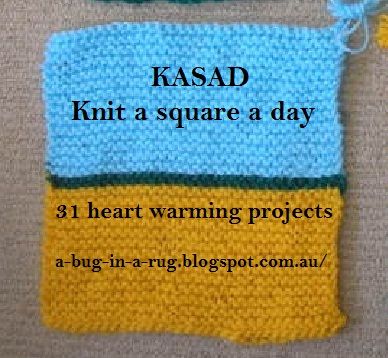 Today's square completes a colour group. Something which I often do is to grab three or four colours of yarn, and to make some squares up as I go using that set of colours. It means that a whole set of squares can be created which match, without necessarily having a plan in your head which lets you be creative and 'play' with your squares and techniques.
I'm certainly no designer, but practically every colour set that I pick ends up looking great, even when I just pick random colours. It can also be a good way of using up dull colours, if you team them with brights.
I'm having trouble getting the photos of the colour groups here. I'll keep trying to get it to work...
Dark purple, beige and hot pink
Pink, purple and yellow
Materials
- 8 ply yarn. Small amount only of C1, C2 and C3, approximately 20 - 30g of each.
- 6mm knitting needles
- yarn needle to weave in ends, scissors to cut yarn.
Skills and difficulty
Beginner knitter
- cast on
- cast off
- knit stitch
- changing colour at the end of row
- carry unused colour up
Colours
In this example
- C1 is dark green
- C2 is pale blue
- C3 is bright yellow
Procedure
1. Cast on 32 stitches in C1
2. Knit every row (work in garter stitch) for 12 rows (6 ridges). End C1
3. Change to C2. Knit every row (work in garter stitch) for 6 rows (3 ridges).
4. Start C1 again. Knit 2 rows (1 ridge). Carry unused yarn up.
5. Knit 2 rows C2 (1 ridge). Carry unused yarn up.
6. Knit 2 rows C1 (1 ridge). End C1.
7. Knit 20 rows C2 (10 ridges). End C2.
8. Start C3. Knit 12 rows (6 ridges).
9. Cast off and leave a 50cm tail.
10. Weave in beginning end and butterfly the tail.
Return to all the KASAD posts