Today's
KASAD
explores how to knit a diagonal square. These can be especially good when you are knitting with new yarn or needles and you aren't sure of the tension. You can keep knitting until the square gets to the length you need - it's not like knitting a horizontal square where you are 'stuck' with the width, which may be too narrow or too wide. It saves you knitting a swatch, too, as you can use the finished diagonal square to measuer your gauge.
When knitting a diagonal square, you will need to know how to increase and decrease. Some increases like 'yarn over' are very 'gappy' and you can use this to make a lacy pattern. Some other increases like 'make one' or knitting into the front and back of the stitch are less visible. Whatever type you use it will change the appearance of the square.
The square will increase in length and width, and then you need to bring it back in again. One of the things I love about these squares is the instant results. Because the first few rows are very short, they knit up quickly so you get a lot of length for your efforts. Then it slows down a bit, but once you're over the middle it finishes quickly - all down hill.
KASAD
14: Chrysanthemum
Materials
- 8 ply yarn in two colours approximately 30g of each
- 6mm knitting needles
- yarn needle to weave in ends, scissors to cut yarn.
Skills and difficulty
Beginner to intermediate knitter
- cast on
- cast off
- knit stitch
- changing colour at the end of row
- increasing
- decreasing
- stitching felt design
Colours
In this example
- C1 is pink
- C2 is pale yellow
Procedure
1. Cast on 3 stitches in C1
2. Knit two stitches then increase one by 'yarn over'. To do this, wrap the yarn around the needle once in between the third and fourth stitch so that you can knit into it on the next row.
3. Keep knitting until the end of the row.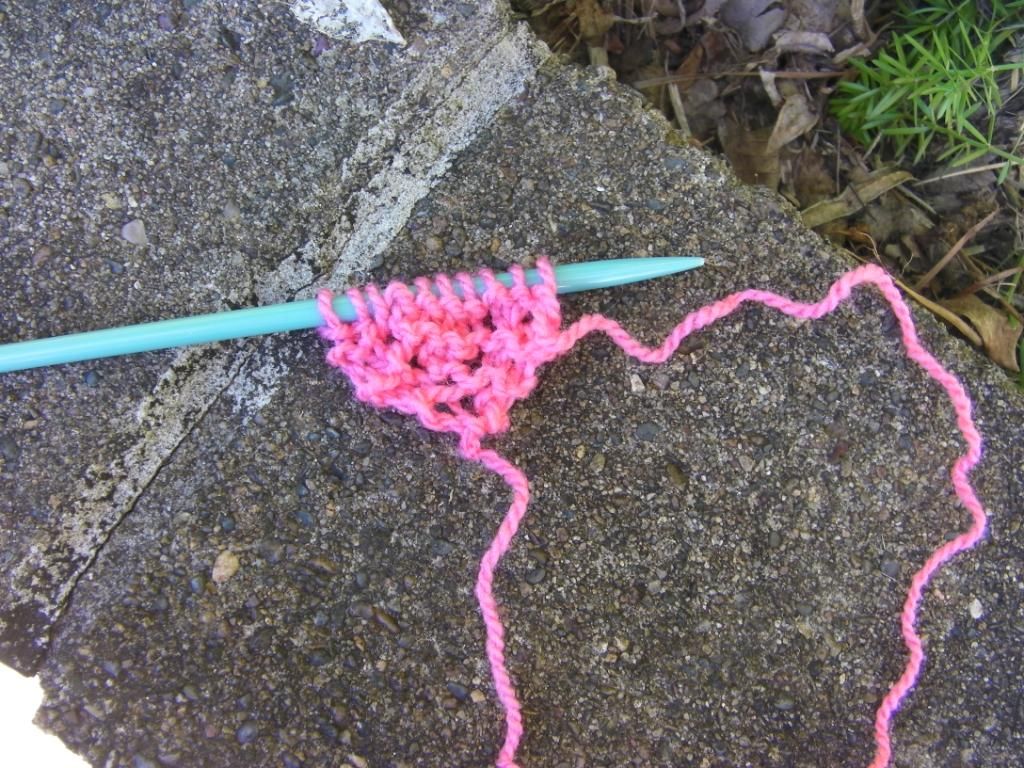 4. Repeat steps 2 and 3 until the edge of the work measures 16cm (7 inches)
5. Knit 2 rows (1 ridge) without increasing. End C1.
6. Start C2. Knit 2 rows (1 ridge).
7. Knit 2 stitches, then decrease one by knitting two stitches together.
Knit two stitches together
(I find it easiest to do this by knitting into the back of the stitches)
Wrap one strand of yarn around both stitches.
This poor quality photo is taken just before the stitches are slipped off the top.
8. Keep knitting until the end of the row.
9. Repeat steps 7 and 8 until there are 3 stitches left.
10. Cast off and leave a 50cm tail.
11. Weave in ends and butterfly the tail.
Once you have completed the square, add a felt flower as described on
Saturday
.
Return to all the KASAD posts