I will be celebrating my first Mother's Day this year. I just missed it last year, at 38 weeks pregnant. Over at
Create With Joy
, we were asked for thoughts about mothers and Mother's Day. So, here are some thoughts in no particular order...
- Mother's Day was never really a big thing in our family growing up. Mum always said that she wanted a cuddle in the morning and a present made with love, and nothing more. It was only when I became an adult that I realised that Mother's Day was a much bigger deal for most people, on par with birthdays.
- Dear Husband said that Mother's Day wasn't really a big thing in his family growing up, either.
- Despite all that, I have found myself looking forward to this year. I'm not sure what Dear Husband and Chubs have planned for me, but we will wait and see.
- I love being a mother. It's wonderful in every way I thought and hoped it would be. Thank you sweetheart for being so wonderful x x x
- I still find it funny/ interesting the different ways that Mother's and Father's Days are treated. Mother's Day is all about giving Mum a treat or a break, but Father's Day is all about spending time with Dad. No one ever seems concerned with giving Dad a break...
- A dear friend told me a story recently about how at least Chubs was still too little to make Mother's Day difficult for me. She said it warned me it gets 'interesting' when they are old enough to make you breakfast in bed - that is, you have to sit in bed eating burnt toast and opening presents when you really need to be up getting things ready to go and visit both grandmas. I can't wait :)
- I once heard the phrase that 'Mothers become mothers when they become pregnant, but fathers become fathers when their baby is born.' What do you think about this statement? I asked Dear Husband and we both think it's true.
- I love you Chubs, my precious girl x x x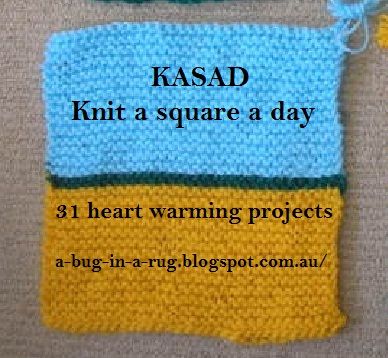 KASAD9
: Sunburn
This square uses larger needles (7.5mm) and two strands of 8ply yarn. It knits up very quickly as there are less stitches and is lovely and soft.
See the tiny bit of green there? I ran out of yellow yarn, very close to the end. Rather than totally unpick the rows and start again, I added a small bit of green to go with the single strand of yellow for the last ten stitches. Remember, it's
not always about being perfect
- sometime good enough is just that - good enough, which is why I left the green there instead of doing it again.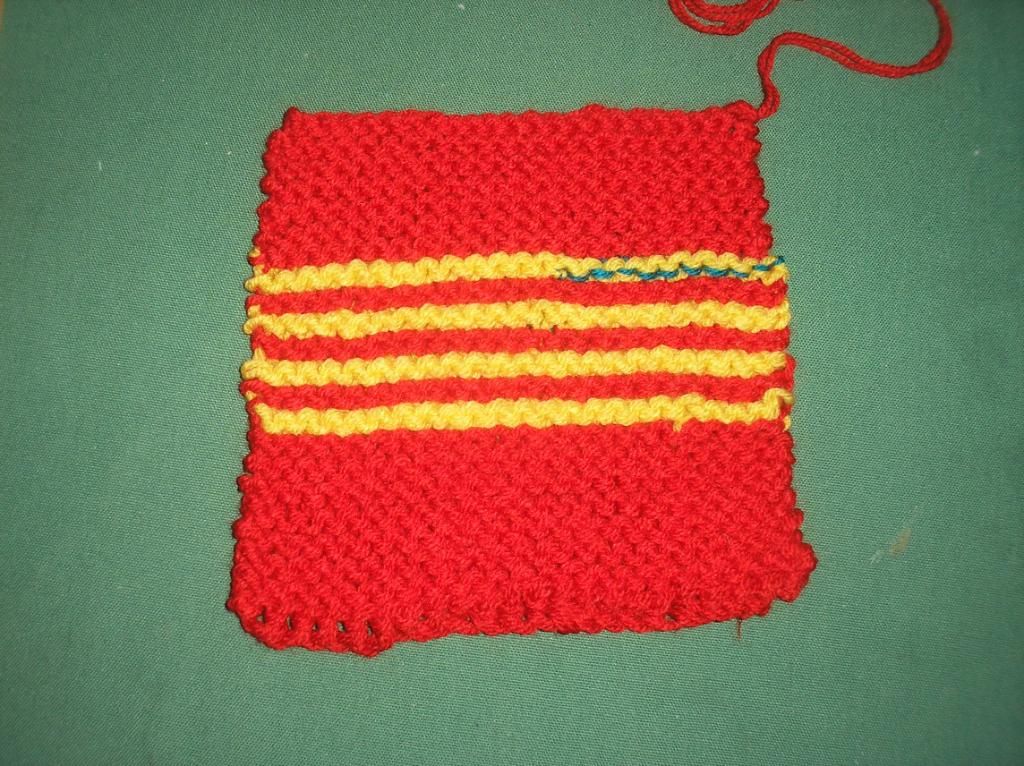 Materials
- 8 ply yarn in two colours. Approximately 70g of main colour, 30g of second colour.
- 7.5 mm knitting needles
- yarn needle to weave in ends, scissors to cut yarn.
Skills and difficulty
Beginner knitter
- cast on
- cast off
- knit stitch
- changing colour at the end of row
-
carrying unused colour between rows
Colours
In this example, C1 is red and C2 is yellow
Procedure
1. Using 2 strands of C1, cast on 22 stitches
2. Knit every row in C1 (work in garter stitch) for 16 rows (8 ridges).
3. Knit 2 rows (1 ridge) with two strands of C2, carrying C1 up the side
4. Return to C1. Knit 2 rows (1 ridge).
5. Repeat steps 3 and 4 three times. Now you should have 4 lines of C2.
6. Knit every row in C1 (work in garter stitch) for 14 rows (7 ridges).
7. Cast off and leave a 50cm tail.
8. Weave in beginning end and butterfly the tail.
Variations
You can make more stripes in the middle by starting the lines (steps 3 and 4) earlier and continuing for longer. You just need to make sure that you have the same overall number of rows so that the finished square is 20cm (8 in) long, which for 7.2mm needles and double strands should be approximately 44 rows (22 ridges).
Return to all the KASAD posts
Linked