Maternity clothes can really suck the budget, which is a shame since you only wear them for such a short period of time. Here's a few tips to save money since you can't actually go nudie from four to nine months. Especially if you're still at work, it's still important to feel good about what you're wearing. Trackydacks and oversized t shirts really get old after a while.
A fairly obvious one is to not buy too many clothes. You won't get to wear them again after a few months (unless you follow some of the tips below.) I'm not fashion forward by any stretch of the imagination, so wearing the same clothes again and again didn't bother me too much, as long as I looked and felt well put together.
21 weeks
Have a think about what sort of clothes you need. Do you need work clothes, or more casual park clothes? I had no trouble finding t shirt type clothes frugally, but I really needed some more formal corporate wear. I found it hard enough to appear professional when I was vomiting constantly all day, so wearing proper business clothes was important to me. There's no point spend lots of money on t shirts if you're at work most of the time, and vice versa. Don't bother buying a nice formal dress if you don't have an event to wear it to.
Borrowing maternity clothes from a formerly pregnant friend or relative is a great option if it's available to you. I didn't know anyone from whom I could borrow, but many of my clothes are currently on loan to another friend who just had her little bundle a few weeks ago.
Seek out suitable non maternity clothes which you can wear after your baby is born. For the second trimester you may be able to get by on regular shirt a size or two larger than you usually wear, which may just be enough to get you by if you're finishing up at work early. It's best to avoid larger sized normal pants, though - they will be all the wrong size in all the wrong places. Maxi dresses and loose fitting tops may fit around your growing belly, especially if you alter any accessories like belts or straps. Keep an eye on the length of tops - often the top will be wide enough for your bump but not long enough. A belly band may help to extend the coverage.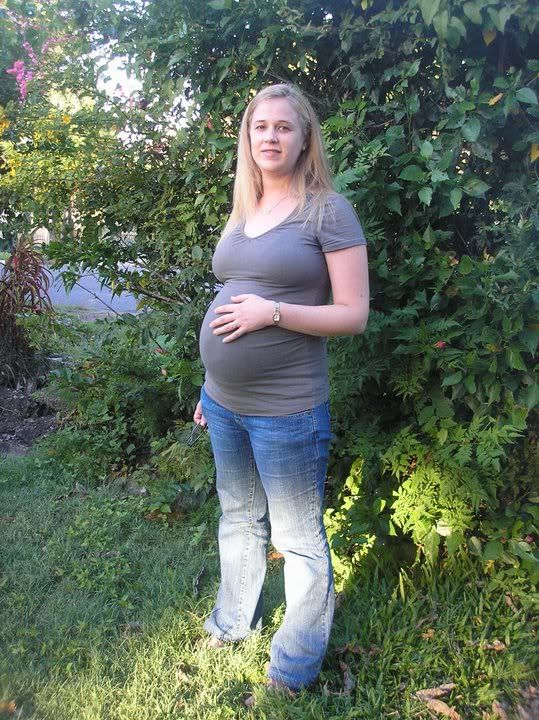 32 weeks
As well as buying non maternity clothes for pregnancy, some maternity clothes can also be worn as regular clothes post pregnancy. Many of my pregnancy t shirts are just normal t shirts with a bit of extra length, and often maternity jeans can be adjusted and worn as normal jeans later.
Many maternity stores, online shops and department stores have maternity clothes which are also nursing tops. I've found the peep holes and/ or false front on these tops very very useful and most of my nursing tops have extra fabric in the belly - I've bought many of them after the bump was well and truly out, though.
Buying second hand was also a big saver for me, and not just financially. As I said above, I had trouble finding affordable corporate wear, so second hand eBay clothes rescued me there. I have no desire to pay $100 or more for a blouse - let alone one I was going to wear for only a few months - and these were the only ones I could find new. The second hand ones I got were of excellent quality and have been passed on to others as well. It is a bit hit and miss - I did get some items which we're suitable, but I think that's more to do with the pitfalls of online clothes shopping than the second hand nature of my clothes.
36 weeks (with an ice cream!)
If you're handy with a sewing machine, you may like to sew some new clothes or modify some existing clothes to suit your changing body. I don't have the seamstress skills to modify clothes - I probably would have ended up with a ruined outfit, but if your sewing skills (or a helpful friend's) are up to the task, then this would be a great saver. Some people sew maternity clothes from scratch, but to be honest I don't think that I would want to invest as much time into a project that I could only wear for a few months. Also, I was so sick during my pregnancy that it took everything I had to get me through the day doing the bare minimum; there was no way that sewing projects were going to get a look in. There are many other women, however, for whom this would be an excellent option, and despite what I just said I do find the idea of wearing an outfit you created around your body as you create a new person quite romantic and warm and fuzzy.
What other maternity clothes ideas do you have?
Linked