One of the last things that we needed to do as part of the
renovations
was to fix up Chubs' room a bit. We intentionally didn't buy her a chest of drawers, shelves or any other furniture when she was born. We didn't really set up a 'nursery' as such or do much decorating, it seemed like a bit of a waste of money for something which would only be used for two years. Apart from the cot, all the other furniture that was in her room was stuff which we already had or bought very cheaply (eg discount shop wire shelving). We planned on getting a matching set of shelves, drawers etc when we bought her a bed for her second birthday - which is approaching all too quickly!
While we were doing the renovations, a lot of stuff got moved into Chubs' room. All of the items in the kitchen, living and dining room had to get moved out, and three people really do have a lot of stuff!
Today Chubs was dispatched to my wonderful sister's house who was keen to have a day with her niece which was perfect for us. Dear Husband and I got stuck into the room putting things away, giving things away and throwing things away. Everything got covered in dust during the building work, so the dishwasher and washing machine have run non stop all day. Did I mention how much I love the dishwasher? It would have taken literally hours to have washed up everything that was covered with dust, but thankfully the machine did it all for us!
There is SPACE now, both in the living room and in Chubs' room. It's great to see her run around and have room to play and dance! Her bedroom is also a play room now, just perfect for our little girl.
New shelves
We got some cube shelving for Chubs' room which I think looks great. The idea is that she can bring one or two of the fabric drawers out to the living room each day, and then we can pack up at night. Before hand we were keeping toys in the living room (since that's where she played) but we can now keep more space free. The lover shelves are toddler height so she can get out and put away her own toys.
The colours of the drawers were more or less chosen for us, by what was available. However, it's actually worked out really well. Unfortunately I didn't get it in the photo, but you can just see the teeniest tiniest bit of the top of a rug at the bottom of the picture. It's the same rug in the background of
these photos
. It's made of hand felted pure wool balls which are stitched together. My mother gave it to Chubs for her first birthday. The rug was hand made by Nepalise women and sold through a fiar trade business. Because it's pure wool felt it's monstrously heavy and we haven't really hand any space for it (since all the floor was covered with junk) so it's really great that Chubs can have it in her room, and it matched perfectly and totally by accident.
change table
This is Chubs' change table. It's the same one that we've always had for her (
and that I had a long time before that
) but the position and arrangement is new to fit in the shelves. Nappies are in the pink shelves on their back and poo bins you can see in the front of the photo. Underneath the table are bulk items (wipes and disposables), overgrown sized nappies, some filing and my sewing machine and overlocker.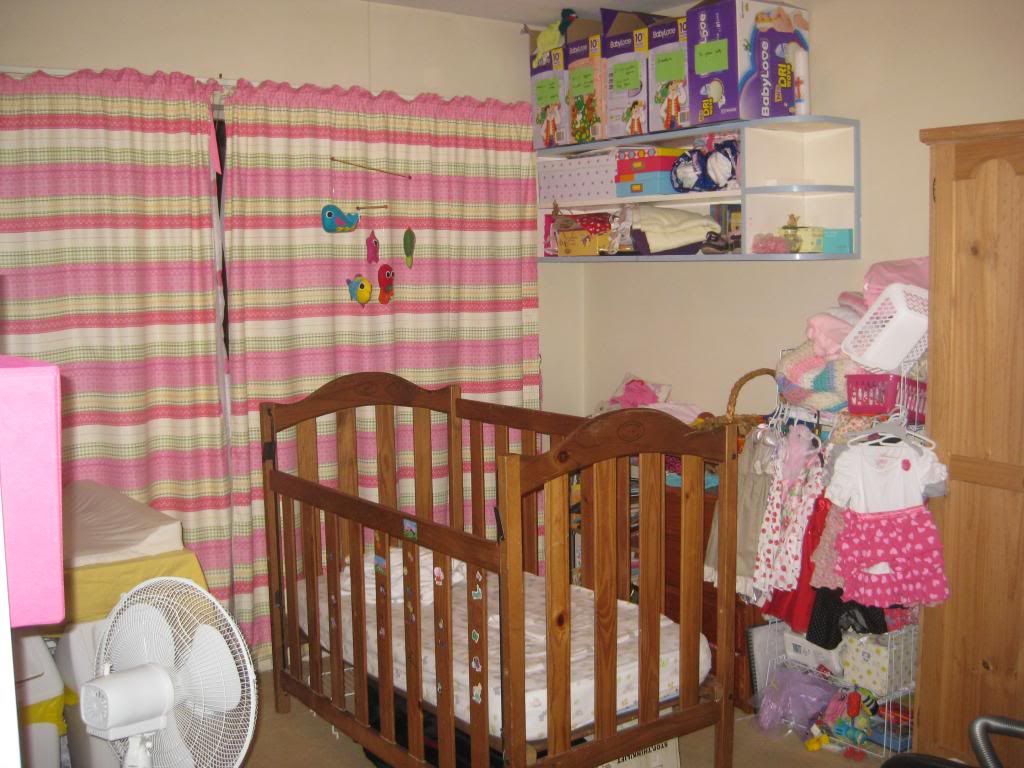 Repurposed shelves
The shelves on the wall actually used to hold our crockery in the kitchen. We were able to get them off the kitchen walls and thankfully they were in such good condition that we could put them up here. I have planned on using them for display, but we needed them mostly for storage in the end. I made the curtains when I was pregnant, there is also a sheer white and pink spotted curtain underneath for privacy during the day.
As I said above, much of this side is a mishmash of old shelves and drawers and cheap flimsy stuff, but it's doing it's job. As I said when we started the renos, everything we have been doing is a bonus. We have a home with food in it, electricity, safe water and love, everything after that is just the icing. When Chubs gets a bed in here, we will change this side a bit but it is certainly perfectly adequate.
We still have some more unpacking and sorting to do, although we did get a lot done today. It's hard not to lose momentum now that most of the work has been done, but we're almost there!