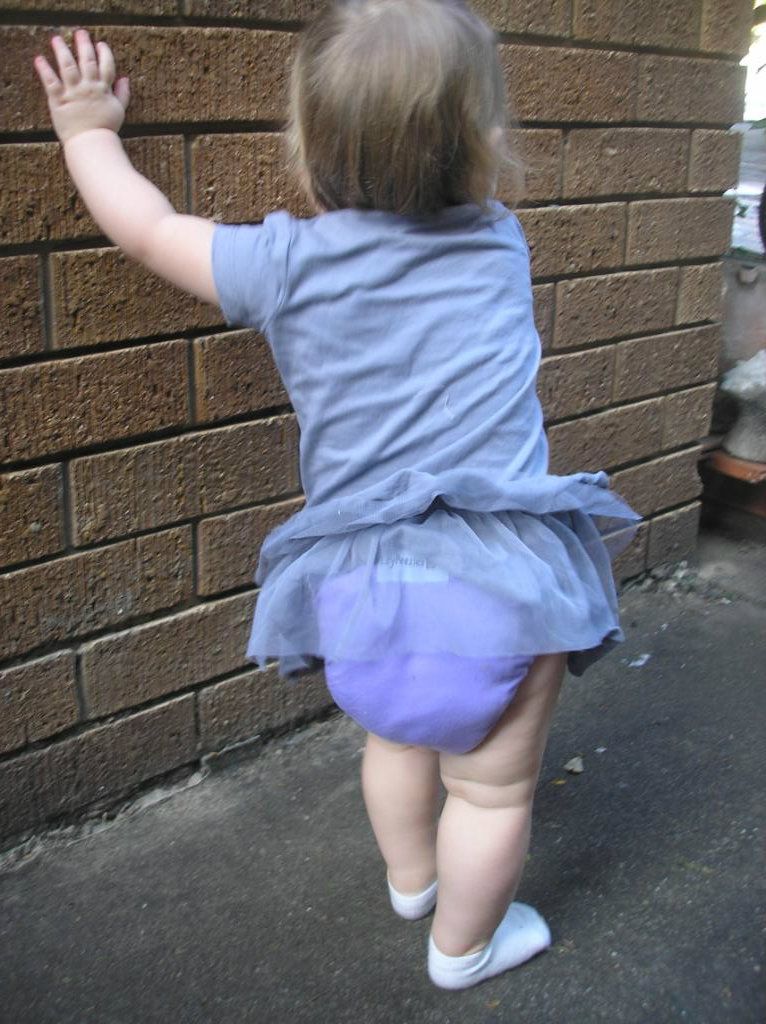 I now wash every day or every second day, not twice a week. Some of the nappies that we had started to delaminate on the PUL (waterproof layer). I'm not sure if this is because they were sitting around wet for several days or just because I bought cheap nappies to start with. Either way, I thought that a switch to daily or twice daily washing was in order.
I have also purchased some higher quality nappies. These new ones are still pocket ones. (Pocket MCNs have an outer layer which looks like a disposable nappy with waterproof PUL cover and snaps, and a fleecy lining. The insert goes inside the nappy/ diaper and gets pulled out for washing.) The new nappies are mostly bamboo (both the fleece lining and the inserts) with a small amount of microfibre. They are so much more absorbant than the 100% microfibre ones we already have; the microfibre ones look so cheap in comparison. In addition, the new ones have a higher quality PUL. Since they were more expensive than the first lot that we had, I really want to make sure that I look after them, hence the more frequent washing. The new ones can be pulled up; I'm looking forward to this when toilet training starts. They also have separate snaps for the legs as well as the waist which gets a closer fit and less leaks (most MCNs and all disposables only have one pair of tabs/ snaps to close to fit both the leg and the waist.)
We rarely use disposables at all now, except at night. I got some more mini wet bags too, which is perfect for a trip to the shops with one or two nappy changes.
Some of the cheaper ones I will throw out soon. I don't regret buying them. One set has lasted 12 months, another set six months. The ones which are delaminating I will get rid of, but about half of them are still in good condition. Even the ones which aren't have been used several times a week - for a rough very conservative estimate that's 100 times. They initial cost was about $5 each, so at 5c a wear (plus a tiny tiny washing cost) I'm very happy with our investment. Expensive nappies last years, but cheapies can be easily replaced. Disposables work out to about 30c each plus the huge environmental cost, so I'm happy with that.
I have purchased some more bamboo inserts, so I'm using them in the microfibre covers too for increased absorbacy. The new nappies I have are only available in plain colours (no patterns) but I would have purchased plain colours anyway. As I said before, patterned nappies look cute on their own but always seem to clash with Chubs' outfit, so I prefer to have plain colours and several double ups (eg four nappies in each of three colours rather than 12 different coloured nappies.)
I rarely use the disposable liners now, except for the first nappy of the morning (which is almost certainly a poo nappy.) TMI altert: Now Chubs is on solids - and a lot of them - her poos are generally soft but formed and roll off the nappy easily. We rarely get a newborn style poo-nami any more, so the liners really aren't needed.
Cloth nappies/ diapers are very easy for us with huge environment and financial savings. I've made a few updates but we're definately a MCN-ing household for the long haul!