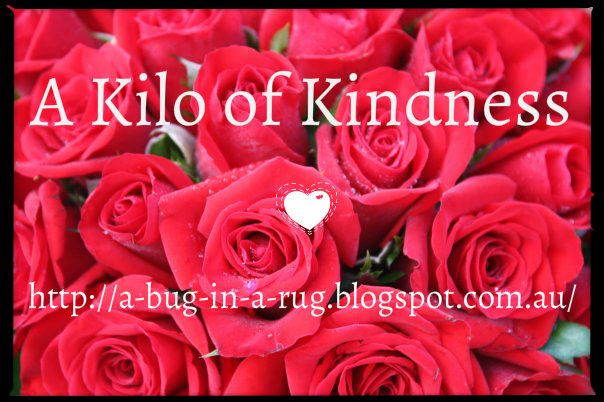 It is with great pleasure that I launch
A Kilo of Kindness
today. I've
hinted at it before
, and now it is here!
Every day is full of countless acts of kindness, but I would like to try to count some of them. Please let me know what kindness you have seen or done, and I will add it to the lost. Perhaps you cooked a meal for a friend in need, maybe someone else dropped your kids home from school? A shoulder to cry on, or someone helping an elderly person with her shopping. A guiding hand for someone with a vision impairment, a donation to a charity. Perhaps you have
knitted a square
or would like to donate to the
40 Hour Famine
:
Hint, it's on this weekend.
So next time someone does you a favour, or you do one for them, let me know and I'll add it to the list. Leave a comment or email me at a_kilo_of_kindness at live dot com dot au. The first comment or email I receive gets to be number one on the list, so get in quick!
I'd also love to hear your predictions as to how long it will take to get to one thousand. I'd like to think we could do it in less that a year, but I really have no idea.
So let me know how the world is a brighter place for you!